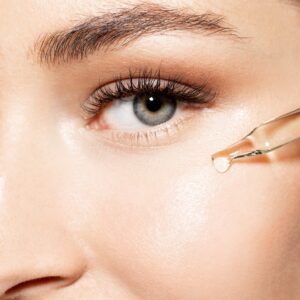 There are many certainties in life but one from which there is no escape is the ageing process. Sure, we can do things to put it off, but it always catches up with us in the end. That makes it all the more frustrating because whilst you might feel young inwardly, it doesn't match the reflection on the outside.
Fine lines, wrinkles, sun-damage, dark spots, and dehydrated skin are all trademark signs that give away our true age. But what if you could visibly improve their appearance and prevent the emergence of more? Meaning you stay looking younger, for longer. Well, guess what? There is a way.
Which Obagi System is Best for Wrinkles?
You can put your skincare woes to bed with the Obagi-C® Fx System. This is a comprehensive anti-ageing skincare collection which targets fine lines and wrinkles, skin discolouration, hyperpigmentation, dullness, photoaging and sun-damage.
Innovative products within this cutting-edge range have been cleverly formulated by combining 10% L-ascorbic Acid and 4% Arbutin to promote rejuvenation and an even skin tone for healthier, younger-looking skin.
Best Obagi® Cleanser for Wrinkles
Begin your daily skincare ritual with Obagi-C® Fx C-Cleansing Gel to deeply cleanse and prepare your skin for follow-on products. This highly effective, nourishing 2 in 1 formulation contains a potent infusion of L-ascorbic Acid, otherwise known as Vitamin C in its most potent form.
This superhero of the vitamin world provides powerful antioxidant properties which protect the mature complexion against ravaging free radicals. Not to mention that L-ascorbic Acid targets fine lines and wrinkles as well as encouraging new collagen production.
Wonderfully soothing Aloe Barbadensis Leaf Juice also makes an appearance, hydrating and softening skin cells and preventing that skin nightmare called dryness. Feel how amazingly soft to the touch skin is and you can also guarantee that this gel-based cleanser will leave your complexion gloriously radiant too.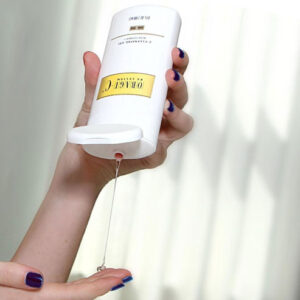 Many people skip a toner, but this essential step performs an important role, removing any final traces of dirt after cleansing and clarifying the skin, to prevent oil build-up without stripping it.
Obagi-C® FX C-Balancing Toner is a non-drying formula that brightens the complexion and balances out pH levels. A gentle formulation that contains witch hazel, this calming ingredient will work to reduce pore-size and inflammation whilst Aloe soothes and hydrates the skin, banishing any thought of tightness, dryness, or irritation.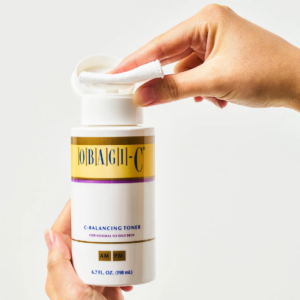 As we grow older, many of us suffer from hyperpigmentation and dark spots, caused by the overproduction of melanin. This usually occurs where skin has sustained UV or photodamage or through genetics and hormonal changes, like pregnancy and menopause. You can apply 5-7 drops of Obagi-C® Fx C-Clarifying Serum to cleansed and toned skin then massage it with your fingertips. It's a clinically proven formulation that harnesses the properties of skin-brightening Arbutin (4%) and anti-aging antioxidant L-ascorbic Acid (10%) to lighten and brighten skin.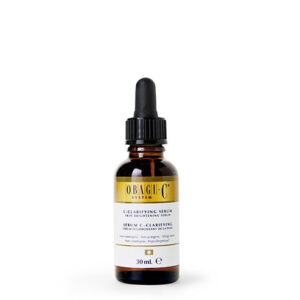 Professional-C® Serum (20%) can also be used alongside the Obagi-C® Fx System for even stronger, preventative antioxidant defense.
With a hefty dose of L-ascorbic Acid, you can benefit from the ultimate in antioxidant protection and skin radiance. Apply this powerful serum after cleansing and toning and with regular use, also expect to see a visible reduction in fine lines and wrinkles too.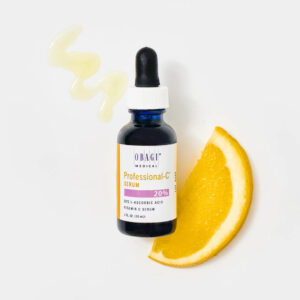 It's imperative to use an effective moisturiser, no matter your stage of life. Obagi-C® Fx Exfoliating Day Lotion has been formulated with mature skin in mind. Aimed at those with normal-dry skin, this lightweight hydrator combines a big boost of moisture to quench thirsty, dehydrated skin with gentle daily exfoliation. The result? An unbelievably nourished and purified complexion. The secret to this dynamic moisturiser's supreme efficacy is the cunning use of Glycolic Acid, a well-known AHA. It's the Glycolic Acid that deeply exfoliates skin cells, dissolving away dead ones as well as other environmental debris to clear and purify the skin and increase the rate of cell turnover. All in all, revealing healthier and more youthful looking skin.