Obagi research thousands of ingredients with rigorous product development and set processes. With over 30 years of experience in product development and innovation have not only led to the use of the most effective ingredients, but also to the process of developing new patented technologies.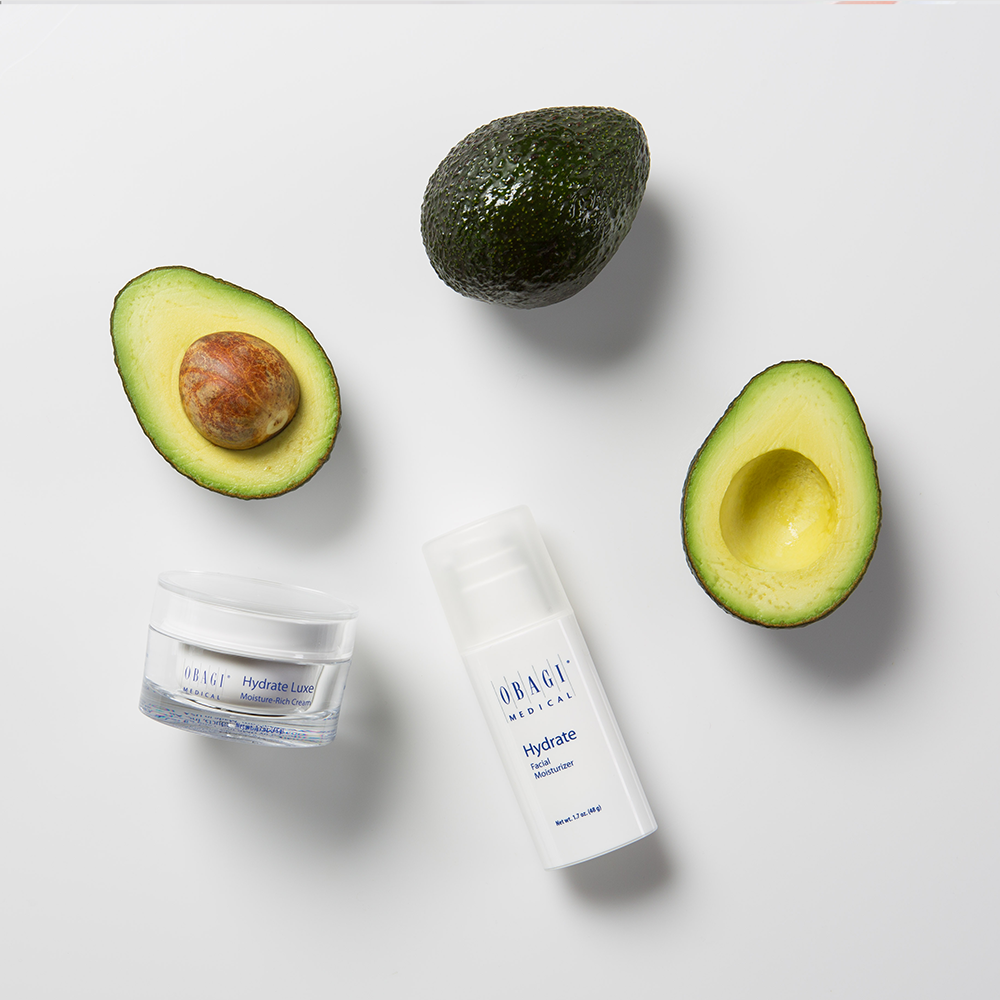 Abyssinian Oil
Abyssinian Oil contains an abundance of beneficial nutrients, including Omega 3, 6 and 9 fatty acids, plus Vitamins A, B, C and E. Abyssinian Oil is lightweight in texture and has non-comedogenic properties, which helps to provide intense hydration without feeling greasy or blocking pores.
Alfalfa Extract
Alfalfa Extract is a natural ingredient that is great for soothing, moisturising and brightening dull, dry skin. Alfalfa Extract is packed with nutrients that offer revitalising and anti-aging benefits including proteins, minerals and Vitamins A,B,C, D and E.
Aloe Vera
Aloe barbadensis leaf extract, commonly known as Aloe Vera, has been used in skincare for thousands of years. Aloe Vera has anti-ageing and moisturising benefits due to its antioxidants, vitamins and beta carotene properties.
Amino Acids
Amino Acids are essential for healthy skin. Naturally-occurring in oats, sodium lauroyl amino acids are best known for their gentle cleansing properties, and help to smooth and soothe the skin. Amino Acids are even gentle enough for sensitive skin.
Apricot Kernel Oil
Apricot Kernel Oil helps to exfoliate the skin, while retaining moisture. Apricot Kernel Oil aids in the elimination of dry skin, and is beneficial in relieving inflammatory conditions such as eczema, psoriasis and rosacea.
Arbutin
Extracted from bearberry plants, Arbutin works to prevent the production of the enzyme responsible for melanin production (tyrosinase), helping to reduce the appearance of dark spots or 'sun spots'. Arbutin helps to give the skin a more even skin tone as well as fresher appearance.
Argan Oil
Argan Oil is extracted from the seeds of the Argania Spinosa plant. Argan oil has been shown to offer many benefits to the skin, including anti-ageing, anti-inflammatory and antioxidant protection. The natural ingredient helps to hydrate and smooth skin.
Avocado Oil
Avocado Oil is an excellent source of antioxidants, essential fatty acids, minerals, and vitamins A, D and E. Avocado oil helps protect your skin from damaging environmental factors and keeps your skin hydrated.
Bi-Mineral Complex™
Patented Bi-Mineral Complex™ helps to reduce the signs of fine lines and wrinkles. Bi-Mineral Complex™ is often used in Obagi's anti-ageing skincare products.
Bioflavonoids
Citrus Bioflavonoids are naturally found in the pulp or white core of citrus fruits. Bioflavonoids are often championed in skincare products thanks to their antioxidant, anti-ageing and skin brightening benefits. Plus, Bioflavonoids offer protection against harmful UV rays.
Brassica Sulforaphane
Brassica Sulforaphane is a good source of Vitamin A that helps with skin cell regeneration to promote clear and even-toned skin.
Broad Spectrum SPF
Broad Spectrum SPF provides your skin with full protection from both UVA and UVB rays. UVA rays cause premature ageing in the skin, while UVB rays cause sunburn and contribute to skin cancer.
Broccoli Extract
Broccoli Seed Oil is rich in the skin-smoothing fatty acids Omega 6 and Omega 9. Broccoli Extract is bursting with Vitamin A, which helps protect against free radical damage, plus collagen-boosting Vitamin C. Broccoli seed oil is non-comedogenic and helps soothe irritated skin.
Caffeine
Caffeine is an antioxidant that helps to 'wake up' your eyes, by reducing puffiness in the under-eye area.
Canola Oil
Canola Oil is rich in Omega 3 and Omega 6 fatty acids and Vitamin E to hydrate, soothe and protect skin from environmental damage and free radicals. Canola Oil also contains Vitamin K, which is thought to reduce the appearance of dark circles.
Chamomile Extract
Chamomile Extract can help with breakouts and eczema due to its powerful anti-inflammatory properties. It is also known to improve the skin's natural glow and soothe dermatitis.
Copper Zinc Malonate
Copper Zinc Malonate is a complex which works to restore the elasticity around the eyes and reduce the appearance of fine lines and wrinkles.
Elastin
Elastin is the protein responsible for youthful and healthy-looking skin. Elastin is found naturally in your skin, and is essential to maintain your skin's structure. Elastin is often used in anti-ageing products as it helps to create firmer skin.
Glycerin
If your skin is in need of some extra hydration, look not further than Glycerin. A natural humectant derived from plants, Glycerin works by attracting more water to your skin, boosting overall moisture and leaving skin feeling soft and looking refreshed.
Hibiscus Oil
Hibiscus Oil is rich in anti-ageing and free radical-fighting antioxidants. The native flower of Malaysia, Hibiscus is incredibly moisturising, leaving skin feeling hydrated and looking radiant. Hibiscus Oil is also rich in natural acids that gently exfoliate your skin and boost skill cell turnover.
Homosalate
Homosalate is a type of salicylate, an organic compound. Salicylates prevent direct skin exposure from the sun's harmful rays by absorbing Ultraviolet (UV) light.
Hydromanil™
Hydromanil is obtained from tara seed, which are known for their potent moisturising properties. Native to Peru, the molecules extracted from the tara seed undergo a technologically innovative process to produce Hydromanil.
Glycolic Acid
Derived from sugarcane, Glycolic Acid is a powerful, natural ingredient. This Alpha Hydroxy Acid (AHA) chemically exfoliates by loosening dead skin cells to reveal the brighter skin underneath, as well as unclog pores.
Lactic Acid
Lactic Acid is a type of Alpha Hydroxy Acid (AHA). Lactic Acid is often used in skincare to treat hyperpigmentation, brighten and smooth the skin. Lactic Acid works by chemically exfoliating dead skin cells to reveal more radiant skin beneath.
L-Ascorbic Acid
L-ascorbic acid is the most potent form of Vitamin C available. 20% L-ascorbic acid is best suited to those with oily skin types. L-Ascorbic Acid is often used in anti-ageing skincare as it helps to reduce the appearance of fine lines and wrinkles.
Liquorice Root
Liquorice Root contains the powerful antioxidant Glycyrrhizin, which protects your skin against UV damage, free radicals and premature ageing.
Mango Butter
Mango Butter is loaded with Vitamins A and E, as well as essential fatty acids and antioxidants, making it extremely hydrating. Mango butter is non-comedogenic, meaning it won't block pores or aggravate skin prone to blemishes which makes it suitable for all skin types including oily skin.
Meadowfoam
Meadowfoam seed oil acts as an emollient, meaning it creates a protective seal when applied topically to the skin, smoothing skin and locking in moisture. Non-greasy, so it won't block pores, Meadowfoam Oil is rich in the beneficial long-chain fatty acids Omega 3 and 6.
Menthol
Menthol helps to reduce the inflammation and redness associated with spots and breakouts. Menthol's cooling, soothing properties make it beneficial for sensitive skin.
Phytic Acid
Phytic acid is a gentle Alpha Hydroxy Acid (AHA) and is particularly suited to sensitive or dry skin types. Naturally found in grains and rice, Phytic Acid is especially high in antioxidants to protect against free radicals, UV damage and signs of ageing.
Polyhydroxy Acid
Polyhydroxy Acid (PHAs) works by exfoliating dead skin cells, resulting in a more even skin tone and texture. PHAs also help your other skincare ingredients penetrate deeper into the layers of your skin, boosting their effects.
Retinol
Retinol (Vitamin A) works by triggering faster skin cell turnover, generating new skin cells, resulting in smoother and more even-looking skin. Retinol helps to unclog pores, smooth skin, reduce pigmentation, promote skin renewal and brighten your skin.
Sage Extract
Sage Leaf Extract is a key ingredient in the Obagi Nu-Derm® Fx Gentle Cleanser. Sage increases blood circulation and stimulates cell renewal, delaying the onset of facial wrinkles. It is also rich in calcium and vitamin A.
Salicylic Acid
Salicylic Acid is a type of BHA (beta hydroxy acid) that works by dissolving the build-up of dead skin cells that accumulate on your skin's surface over time, exfoliating them off to reveal healthier skin underneath. It is derived from the Willow tree.
Shea Butter
Shea butter is extremely high in fatty acids and Vitamin E, which have moisturising properties. Shea butter naturally melts at body temperature and is quickly absorbed, making it an ideal ingredient for dry skin.
Starflower
Borago Officinalis Extract, also known as Starflower, is incredibly rich in Omega 6 fatty acids which help boost your skin's protective barrier function. Starflower also has anti-inflammatory properties to calm and nourish skin
Sulforaphane
Sulforaphane is a natural plant compound found in cruciferous vegetables such as broccoli. Sulforaphane is rich in Vitamins A, C and E to boost collagen production and create even skin tone.
Vitamin A
Retinol (a type of retinoid) is a derivative of Vitamin A, which is a key nutrient in skin cell turnover process. Vitamin A helps to speed up turnover rate, stimulates collagen production and reveals clearer-looking skin.
Vitamin C
The most potent form of Vitamin C is L-ascorbic acid, which helps to brighten and even your skin tone, providing an instant glow. L-ascorbic acid also reduces the signs of ageing and brightens your skin.
Vitamin E
Vitamin E is an antioxidant that works to keep your skin looking young, bright and healthy by reducing signs of ageing, such as fine lines and wrinkles.
Witch Hazel
Witch Hazel has astringent properties, meaning it temporarily causes your skin to contract. This is particularly beneficial in tightening your skin's pores, reducing their size and removing excess oil.
Zinc
Zinc oxide is regarded as the safest, most effective ingredient in SPF. Less irritating than chemical SPF, Zinc oxide offers mineral protection and works by scattering and absorbing UV rays.