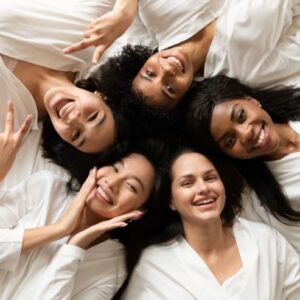 You may notice a few changes in your skin when going from your 20s to your 30s, this is very normal and to be expected, but with a great skincare routine you can limit these changes to keep your skin looking and feeling youthful.
It's often in our late 20s and early 30s that we'll start to notice the appearance of fine lines, the start of wrinkles and perhaps some sun damage and pigmentation, they can almost feel like they've appeared overnight, which is why we're here to let you in on the changes to expect and the products to help address them.
Acne
Your acne may still be around, with hormonal flair ups and the occasional spot making an appearance. However as you enter your late 20s acne can change, and women often start to see hormonal acne – deep, cystic bumps around the chin and jawline.
Drying products used on whiteheads won't help to reduce cystic acne, instead you'll want to try a vitamin C product to reduce the inflammation of cystic acne. Vitamin C is great at reducing redness and inflammation, soothing irritated skin and protecting against free radical damage.
The Obagi-C® FX C-Cleansing Gel is a 2-in-1 cleanser containing vitamin C and aloe barbadensis leaf juice to protect against free radical damage, reduce the appearance of fine lines and wrinkles and promote collagen production. This cleanser will resurface the skin, exfoliating away dead skin cells to reveal brighter, younger, smoother and clearer looking skin.
Wrinkles
The fine lines around the eyes that appear when you smile or frown may become more prominent in your late 20s and 30s, as you age they will become visible when you're resting your face. Women don't often welcome fine lines and wrinkles, they're a key sign of visible ageing, but can also be seen as evidence that you've laughed and experienced happy times – just what life is about!
If you'd like to reduce the appearance of wrinkles try incorporating AHAs into your skincare routine. AHAs like glycolic acid will exfoliate the skin, increasing cell turnover which will reduce the depth of wrinkles, creating a more youthful appearance.
A highly recommended AHA cleanser is the Obagi-C® RX System C-Exfoliating Day Lotion With Vitamin C. Complete with hyaluronic acid, this lotion will plump your skin, whilst the glycolic acid works to diminish pigmentation and wrinkles. Vitamin C glycosides have been carefully added to this formula to enhance collagen production, further minimizing signs of ageing.
A vital factor in preventing future signs of ageing is ensuring you protect your skin from harmful UVA and UVB damage. Wearing a high factor SPF like the Obagi Sun Shield Matte™ Broad Spectrum SPF 50 will help protect your skin from sun damage and free radical damage, so you can stay protected and keep looking youthful.
Pigmentation
The next change you may experience in your skin as you age is an increase in pigmentation, perhaps a few dark spots have appeared, often on your forehead, cheek bones or hands, as they are the places often hit by the sun. Limiting sun exposure and wearing an SPF, like the Obagi Sun Shield Matte™ Broad Spectrum SPF 50 will help to prevent future pigmentation forming.
If you're looking to lighten dark spots try the Obagi-C® Fx C-Clarifying Serum. This advanced serum is packed with innovative ingredients to lighten pigmentation, such as 7% arbutin, a natural skin toner and lightener, effective at reducing hyperpigmentation and brightening the skin. This serum also contains 10% L-ascorbic acid and lactic acid to support cell renewal and protect against free radical damage, a known cause of pigmentation formation.