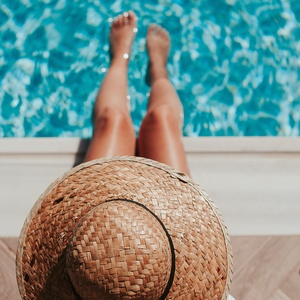 With the recent spate of good weather, summer seems to be finally making an appearance. So, if you're not already applying SPF as part of your daily skincare routine, it's definitely time to start. But is it really necessary you might be thinking? After all, many of us do desk jobs and hardly ever see the sun! That might be the case, but if you add up all of your little interactions with the sun's rays, like walking the kids to their school, sitting outside the pub on Saturday afternoon, the picnic on Sunday and walking from the car park into town several times a week, they begin to add up.
What is UV Radiation?
Ultraviolet radiation is a form of electromagnetic energy emanating from the sun. There are also some artificial sources of UV rays including tanning beds, lasers, and black lights.
Why is UV Radiation Damaging to Skin?
Energy makes things happen and that causes change. In the case of skin cells, UV radiation damages the cell's DNA. This can result in cell mutations, genetic defects, burns, loss of collagen and elastin, accelerated premature ageing including fine lines, wrinkles and dark spots and in the worst case, the development of skin cancer. Put it this way, it's not good news.
How Can I Protect My Skin from UV Radiation?
It all sounds pretty scary but thankfully, protecting your skin against the sun's rays is relatively easy and doesn't have to break the bank. The simple act of applying a daily SPF cream can make all the difference. It acts as a barrier, deflecting harmful rays and defending skin from future damage. It's such an important step in the morning skincare routine that SPF is recommended by The Skin Cancer Foundation.
The Summer Run Down on SPFs
Obagi have used their 30 years of scientific expertise to create highly effective, cutting-edge SPFs to suit your skin's needs.
All of the Obagi SPF products provide either physical, chemical, or combined protection against UVA, UVB and IR rays, in a range of different finishes.
The Matte SPF
Obagi Sun Shield Matte™ Broad Spectrum SPF50, as featured in Cosmopolitan, is suitable for all skin types, particularly those with oily skin or who prefer a matte complexion. This excellent formulation offers broad spectrum protection from both UVA and UVB rays and is suitable for use with all Obagi Systems. It's also non-comedogenic, meaning it won't block pores. Even more impressive is that it's hypoallergenic, fragrance-free, and dermatologist-tested so is suitable for use on all skin types including those with sensitivity.
The supreme efficacy of this product comes down to a trio of hero ingredients. Zinc Oxide deflects the UV rays, while Homosalate and Octisalate work to absorb and release radiation away from the body.
Gone are the days of heavy, greasy, oily sunscreen. You'll be glad to know that Sun Shield Matte™ does exactly what it says on the tin. After use, it leaves a sheer, matte finish to reduce shine as well as sun factor protection 50.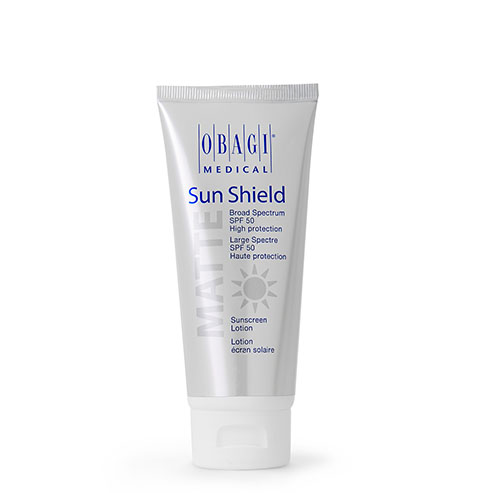 The SPF for Younger Skin
OBAGI360 HydraFactor® SPF30 is a great SPF for users of the OBAGI360® System and for those in their 20s and 30s. This 2-in-1 daily moisturiser and sunscreen provides instant, all-day hydration, whilst simultaneously defending against broad spectrum UVA and UVB sun damage.
How does it work? Advanced technology means that this product actually absorbs UV rays and releases them from the body. Glycerin is in there to boost instant hydration whilst Hydromanil™, an innovative clinically proven ingredient, is the key to long-lasting hydration. These molecules, which are derived from the Tara Seed, form a matrix on the skin's surface and as a result, can remain on the cells for longer. Thirsty skin is immediately nourished, but more importantly, further water loss is prevented and nourishment from active compounds is gradually delivered over the course of the day.
Not only that, but this SPF counteracts the first signs of ageing and protects against future damage through its powerful anti-inflammatory ingredients which help to promote skin elasticity and improve fine lines and wrinkles. It leaves skin feeling calmed, soothed, and looking wonderfully radiant.