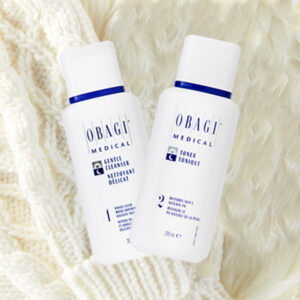 Every year, the same thing happens. The summer holidays seem to go on forever, or at least that's how it feels. Then all of a sudden, the start of the new school year is just around the corner and, of course, the usual panic sets in. No more lie-ins or relaxed mornings, instead chaos will shortly be resuming once more.
If the prospect of buttering sandwiches at 100 kilometres an hour, shouting at the kids to get out of bed for the nth time or having to deal with an untimely meltdown as you desperately head for the door, is bringing you out into a cold sweat, you're not alone.
The first thing that often goes in this situation is our own self-care. Prioritising everyone else means that we skimp on things like skincare, make-up or even brushing our teeth. Anything to get them to school on time, right?
But there are some things that we can do to make life a bit easier for ourselves. Having a super quick, highly effective skincare routine is one thing you can do. Then, even if you have to leave home without make-up, your complexion will be so naturally radiant, it won't even matter.
A Quick and Easy Morning Skincare Routine for Mums on the Go
The old adage about cleansing, toning, and moisturising came about for good reason. After all, it really is the best way to keep your skin in prime condition. Add to that a skin care range that uses ingredients which work at a deep, cellular level, visibly changing the appearance of your skin, then you're onto a winning formula.
Obagi® are a premium skincare brand with over 30 years of scientific expertise and clinically proven results. Specifically formulated to transform skin from within, these incredibly effective products leave the complexion looking noticeably healthier, more radiant, and the ace card, younger looking.
The great thing is that Obagi® skin care products have been designed to accommodate the entire Fitzpatrick skin spectrum and are dermatologist approved and tested for all skin types. Key ingredients including Vitamin C, Retinol and Arbutin target common skincare concerns. So, no matter whether you're concerned about hyperpigmentation, fine lines, wrinkles, or spots and blemishes, Obagi® can offer a solution.
Pure Obagi® Facial Twin Kit
This is the ideal skincare kit for mums on the run, available in Normal-Dry and Normal-Oily, revealing healthy, glowing skin, and proactively targeting early signs of ageing as well as powerfully defending against further damage.
For those with dry or sensitive skin, Obagi Nu-Derm® Fx Gentle Cleanser is a remarkably soothing formulation. Natural nourishers like Oat Amino Acids, Aloe, Apricot Kernel Oil and Panthenol are included to calm irritation and inflammation and hydrate skin. It's also rich in Sage Leaf Extract and Borago Officinalis Extract to remove excess oils and impurities whilst smoothing and brightening the complexion.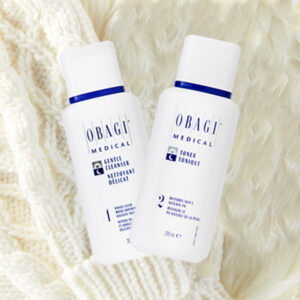 Alternatively, for normal to oily skin, Obagi Nu-Derm® Fx Foaming Gel, effectively removes makeup, oil residue and impurities caused by the everyday environment. It also includes the signature hero ingredients of Oat Amino Acids, Aloe, and Borago Officinalis Extract. Additionally, Chamomile Extract, known to reduce irritation, is included for its anti-inflammatory properties, ideal for those prone to acne, blemishes, or rosacea.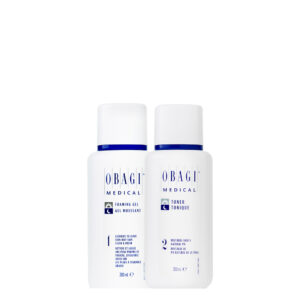 Ideal for quick, but effective deep cleansing, that you can fit in before the kids wake up, these cleansers will effectively remove oil residue and impurities that have surfaced during the night, leaving your skin purified and radiant.
Used as part of your evening routine, you'll also find that they clear away debris caused by the everyday environment and of course, effectively remove make-up, ensuring that follow-on skincare products can penetrate more deeply and work optimally.
Obagi Nu-Derm® Fx Toner, is a non-drying, alcohol free formulation that corrects and maintains the skin's delicate pH balance. Hero ingredient, Witch Hazel, tightens skin and another key component, Aloe is re-known for its highly soothing properties, priming skin for the next step, hydration.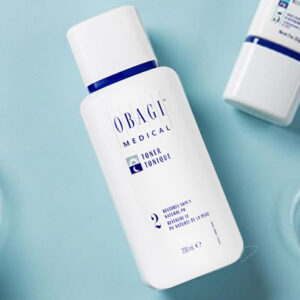 Obagi Hydrate®
One of the brand's bestsellers, Obagi Hydrate® contains innovative, advanced Hydromanil™ technology. Derived from the Tara Seed, an ingredient known for its water retention properties, the molecules form a matrix on the skin's surface. Not only does this instantly nourish skin, but it prevents further water loss and allows gradual delivery of further nourishment from active compounds for up to eight hours throughout the day.
For busy mums, you can feel confident that your skin will be thoroughly nourished, hydrated, and actively protected against environmental stressors that cause premature ageing.