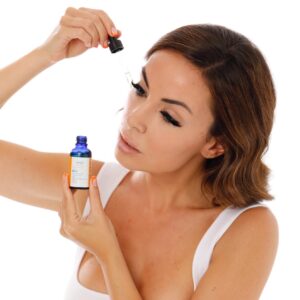 The warm days might be lingering, but as we edge further into September, it can mean only one thing. Colder, autumnal weather is on the horizon and like the flick of a switch, that can wreak havoc on our skin, hair, immune system, and mental health.
On the surface, things might seem pretty bleak. Yet autumn is the season that brings a kaleidoscope of colour to the world with its rich oranges, yellows, and browns. In fact, you can banish the gloom by counteracting the effects of reduced sunlight and the drop in temperature.
Light therapy lamps and sunrise alarm clocks help the body's natural rhythms adjust to the change in daylight levels. Vitamin C supplements, on the other hand, boost the immune system. But with so many products out there, it can be tricky to know what you should do about skincare?
What happens to Skin During Autumn and Winter?
It's during these months that skin is most likely to get dry, rough, chapped, itchy, and sensitive. Not to mention the fact that the complexion seems to lose its sparkle and can often look lack-lustre and dull.
Truly frustrating skincare woes, I think we'd all agree! The main cause is cold, dry air which contains less moisture than warm air. Add central heating whacked up to maximum and going full belt into the equation, and it's no wonder that skin suffers at this time of year. To cap it all off, harsh winds are damaging to the skin's barrier, the protective mechanism that keeps skin healthy and the moisture in.
With this all in mind, antioxidant protection, intense moisture, and extra nutrients are the obvious solutions. But what about Vitamin C? Should it stay or should it go?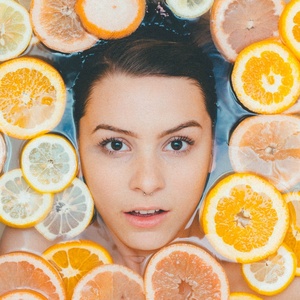 Why is Vitamin C Important in Skincare During Autumn and Winter?
Vitamin C is one ingredient that has a multitude of year-round benefits. It's most well-known for its skin brightening properties, perfect for restoring a natural glow to dull autumn skin and evening out skin tone.
This powerful antioxidant also offers extra- strength protection, defending skin against future damage caused by unstable atoms (free radicals) and environmental factors including the weather. The calming effect of this particular vitamin helps with reducing skin inflammation and irritation, issues that often crop up during colder periods. And it can also help to retain moisture, so pivotal at this time of year, ensuring that dehydrated skin is optimally nourished and hydrated.
Vitamin C is a winner for anyone concerned about the signs of ageing because it can be used as a targeted treatment for fine lines, wrinkles, and dark spots. That's because it promotes collagen production, leading to an improvement in elasticity, firmness, and resilience.
Obagi Professional-C® Serum
Obagi have created the fast-absorbing Professional-C® Serum, available in three strengths, which can be applied as part of a daily skincare routine. Molecules within a serum are smaller than normal, meaning that a higher concentration of powerful active ingredients are delivered and penetrate the skin more deeply.
Obagi Professional-C® Serum has been formulated with L-ascorbic Acid, Vitamin C in its most pure and potent form to ensure its supreme effectiveness. Clinical studies were carried out and demonstrated that Obagi Professional-C® Serum penetrates the epidermis and dermis significantly better than most other Vitamin C serums.
On application, you can expect to see noticeable, instant results as this wonderfully silky serum immediately soothes and nourishes the complexion. Skin radiance is given a turbo-charged boost and is left wonderfully glowing and feeling incredibly revitalized.
With regular use, you'll also see a longer-term improvement to fine lines, wrinkles and dark spots, reduced skin inflammation and irregular pigmentation and a much smoother, hydrated complexion. If you've not tried a Vitamin C serum before, we'd suggest Obagi Professional-C® Serum (10%) for those with dry, irritated, or sensitive skin. It's a gentle yet rich concentration that ensures instant radiance.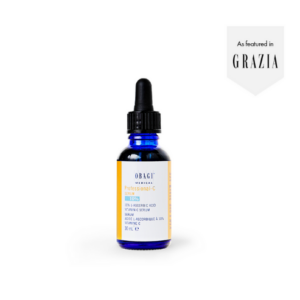 We also love the Pure Obagi Vitamin C Starter Kit, an ideal set for those with dry or sensitive skin to get autumn off to the best start. Aside from the obvious Professional-C® Serum (10%), the kit comes with Obagi-C® C-Cleansing Gel, a highly effective cleanser that removes deep-seated oil and dirt, whilst priming skin to optimally absorb follow-on products. It also includes the unrivalled Obagi Hydrate® which uses Hydromanil™ technology to improve moisture content for up to 8 hours, as duly demonstrated by the clinical trials. With this Pure Obagi kit, the skin is transformed from within, correcting damage to reveal healthier and younger looking skin.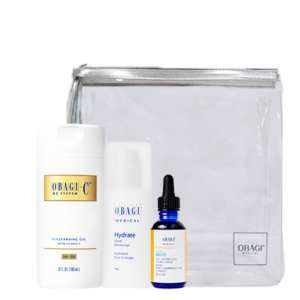 Our Obagi Professional-C® Serum (15%) can be used for most skin types. It's a more concentrated, luxurious serum that provides even stronger antioxidant protection and of course, that signature Vitamin C glow.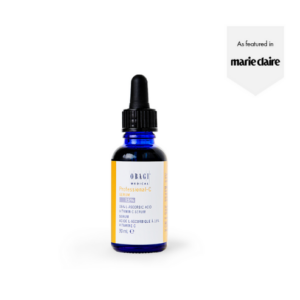 Alternatively, for those with a normal-oily complexion, opt for Obagi Professional-C® Serum (20%). The strongest formulation of the trio, it provides an instant glow without skin looking greasy and offers the ultimate in antioxidant protection. Lucky you!