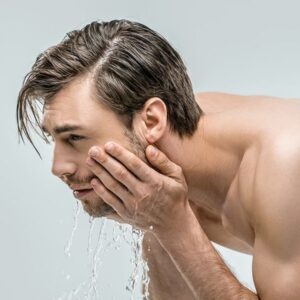 Whilst women have traditionally carried out a daily skincare routine, men today are paying more attention to their skin, hair, and health, the desire to look and feel younger for longer rubbing off on them.
They've also been helped along by social media, blogs, and online shopping. It can be said that universally, men have a greater awareness that targeted skincare products can help to keep their skin healthy and youthful. And they're keen to find the most effective ones. Luckily Obagi® is on hand with helpful advice and expert solutions. Read on to find out the best anti-ageing products for men.
Why is Male Skin Different?
The obvious difference is facial hair and shaving can lead to sensitivity as well as inflamed and painful ingrown hairs.
Hormones also play a role in distinguishing the characteristics of male and female skin. The male hormone, Testosterone, causes an increase in thickness and skin feels tougher in texture. Sebum production is also greater in men, accounting for oilier skin and in some cases, longer-lasting acne.
The good news is that men have a higher collagen density, meaning that skin has the potential to stay younger-looking for longer. Unfortunately, the advantage is lost by many men because they don't use any sun protection and consequently, their skin suffers sun damage.
How to Look After Male Skin
No matter your gender, it's important to develop healthy skin care habits. That's why we love Obagi® Gentle Men's Kit – Normal to Dry. Perfect for men with a sensitive complexion, this comprehensive kit contains all the components of a great daily skincare routine, including cleansing, nourishing, and protecting the skin.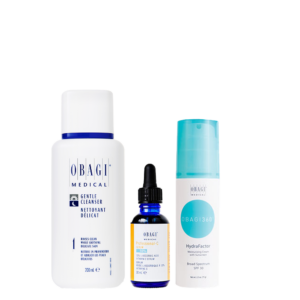 Cleanser
A morning cleanse of the skin is crucial since excess oil, dirt and impurities build up on the skin's surface during the night. If these aren't removed, the skin follicles can become blocked, allowing sebum to become trapped and enabling bacteria to enter the skin cells. It probably won't surprise you to hear that this isn't great for the complexion, causing breakouts, inflammation, and blotchiness.
An effective cleanser prevents this from happening by lifting away all of the unsavoury debris on the surface, and by penetrating more deeply into the dermis, to clear any remaining oil. Thorough cleansing ensures that other follow-on anti-ageing products can also be absorbed more efficiently for maximum results. Kick-start your morning routine by washing your face with Obagi Nu-Derm® Fx Gentle Cleanser, the first item in this must-have men's kit.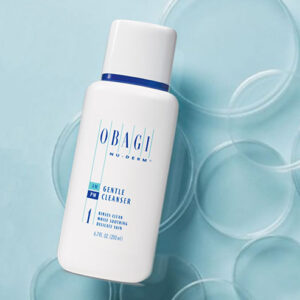 The extremely gentle formulation uses oat amino acids, a wonderfully cleansing, soothing and skin-softening ingredient, to effectively remove oil residue and impurities caused by the everyday environment.
There's also calming Aloe, rich in antioxidants and vitamins, which neutralises the effects of UV damage and early signs of ageing, whilst Glycerin soothes, and hydrates dehydrated skin.
Antioxidant
If you're properly serious about having an anti-ageing skincare routine, you must include an antioxidant for its powerful anti-ageing properties.
Every day, our skin has to defend itself against UV damage and environmental stressors like weather, chemicals, and pollution. Left unchecked, these stressors break down collagen and elastin, causing visible signs of premature ageing like fine lines and wrinkles. That's where antioxidants come in, protecting the skin's surface from oxidative damage. Step 2 of your daily skincare routine is to apply Obagi Professional-C® Serum 10%. Ideal for sensitive, dry, or irritated skin, the gentle yet nutritious concentration contains 10% L-ascorbic Acid (Vitamin C), a supremely powerful antioxidant. This formula immediately penetrates the skin, instantly brightening the complexion and providing strong antioxidant protection to keep the skin looking youthful.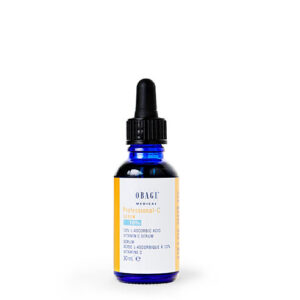 Moisturise
OBAGI360 HydraFactor® Broad Spectrum SPF 30 is a particular breakthrough 2 in 1 moisturiser and sunscreen, meaning you can mark off the two final skin care steps in one hit.
But why is that necessary? Well, skin needs to be protected from ultraviolet radiation because that form of energy causes change to happen at a cellular level, damaging DNA which can lead to cell mutations, genetic defects, and skin cancer as well as premature ageing. Thankfully, this highly effective dual-purpose moisturiser offers high level protection by absorbing UV rays before releasing them from the body.
Not to mention that it's also the ultimate defender against skin dryness too. That's because this ground-breaking, hypoallergenic daily moisturiser also uses advanced Hydromanil™, clinically proven to provide moisturisation for up to 8 hours and humectant, Glycerin, another effective retainer of moisture. After use, you can expect smooth, supple, radiant, healthy skin.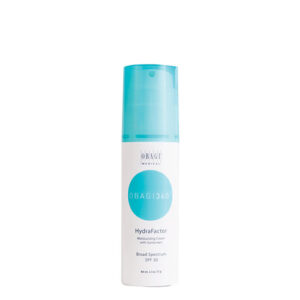 Eyes
You may already have noticed that your eyes are especially prone to fine lines and wrinkles. It's mainly down to the fact that collagen and elastin production decreases over time, culminating in thin, delicate, less resilient skin. That often has the knock-on effect of dry, sensitive and easily irritable skin too. Not a great combination!
To counteract this, use an eye cream that contains ingredients which correct and prevent future damage and you'll see a noticeable improvement. Obagi ELASTIderm® Eye Complete Complex Serum is a great choice for men on the run. Light and smooth, it's roller-ball technology makes it super-easy to apply, certainly a benefit if you're new to the world of skin care.
Bi-Mineral Contour Complex™ promotes the development of healthy elastin, whilst caffeine tackles dark circles, puffiness and bags under the eyes.