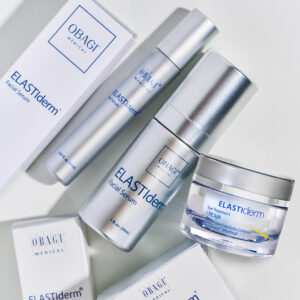 Dry, sensitive skin around the eye area can be a real bugbear for some. Itchy, flaky, red, and prone to ageing. Not exactly a tick-list most of us would sign up to have, let's be honest. Then there's the age-old problem of what to do about said skin. Naturally, you don't want to irritate it any further and yet, it's crying out for hydration, nutrients, and something to soothe and calm it.
If this is all sounding familiar, it's probable that you've tried several products to try to rectify the problem. Thankfully, you can call that search off. The ultimate eye cream is ready and waiting, and the good news is that it's just perfect for sensitive skin too.
Why Do You Need Eye Cream?
Before you part ways with your cash, let's address why having an effective eye cream is so important anyway.
Eyes are obviously a focal feature of the face and most of us would like to keep them looking as youthful as possible, for as long as can be. I mean seriously! Who really wants crow's feet? Unless you're some crazy method actor maybe.
Unfortunately, our eyes don't always agree. It's a frustrating fact that they're usually one of the first areas of the face to show fine lines and wrinkles. So, why are they prone to such visible signs of ageing? The main reason is that collagen and elastin production decreases over time, meaning that the skin becomes thinner, more delicate, and less resilient as part of the natural ageing process. Not to mention, that it's also more likely to become dry, irritated, and sensitive.
Topical creams don't cut the mustard because they don't boost elastin production or provide continuous hydration. Instead they add a little moisture which might provide a short-term boost, but simply covers up the problem and doesn't deal with the root cause.
On the contrary, skin cells need to create, convert, and organise elastin in order to restore vitality and youthfulness. An eye cream that penetrates the skin more deeply, hydrates the skin cells and actively promotes elastin production is the only way to transform skin and produce significant improvement in the appearance of fine lines and wrinkles.
So, if you want to keep established wrinkles at bay and new ones away ladies and gentlemen, the sooner you start using an effective eye product, the better!
Obagi ELASTIderm® Collection: The Best Eye Products for Sensitive Skin
Obagi® is a trusted, clinically proven skin care brand with over thirty years' experience in this field. Products are dermatologically tested for sensitive skin, clinically tested for their effectiveness and have been formulated to encompass all of the Fitzpatrick skin spectrum.
The brand had already created a number of acclaimed skincare products, when they turned their attention to formulating products that target the eye area. The highly effective ELASTIderm® Collection was born to work threefold by:
increasing moisture content
promoting the production of elastin
Which Obagi ELASTIderm® Product Should I Get?
Whether you prefer an eye cream or serum is often down to personal preference. If you like a creamier texture, you may opt for eye cream. Silky and light your thing? Then serum might be the one for you.
It doesn't matter which of the products is your preference because you can rest assured that all Elastiderm® eye products incorporate a unique Bi-Mineral Contour Complex™ combining Copper and Zinc with Malonate. Bi-Mineral Contour Complex™ has been specifically designed to support the three necessary stages of developing healthy elastin: create, convert, and organise. And guess what? The healthier elastin your skin produces, the more resilient and tighter it becomes, giving eyes their bounce back.
This cutting-edge ingredient is so effective that it can reveal more resilient looking skin in as little as two weeks (clinically proven, we should add). And with ongoing use, you'll see a noticeable improvement in the overall appearance of fine lines and wrinkles over the course of time. Forget rich, greasy formulas of the past. Obagi ELASTIderm® Eye Cream, as featured in Elle Magazine, is a twice daily, lighter eye cream that restores ageing eyes, tightens sagging skin, and thoroughly nourishes and hydrates the eye area. It also perfectly primes the skin around the eye for make-up.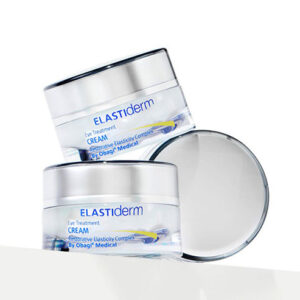 Alternatively, try Obagi ELASTIderm® Eye Complete Complex Serum which feels wonderfully weightless and smooth. As well as the signature Bi-Mineral Contour Complex™, caffeine is an addition to this formulation to deal with bags under the eyes. The ultimate weapon against puffy or darkness under the eyes, the rollerball technology also makes it unbelievably easy and convenient to use too.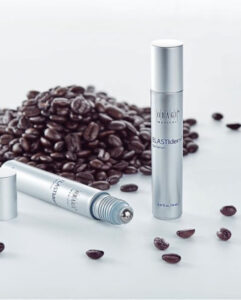 Are you thinking, hang on a minute, if this stuff is so great for wrinkles, why can't it go all over my face? You are. In that case, you'll be relieved to hear that there's also a formulation available for the face and neck, clinically proven to deliver firmer-looking skin and diminish fine lines, wrinkles and crepey skin. Obagi ELASTIderm® Facial Serum can be used morning and evening and it's so effective that our customers say they can see a difference within 24 hours.
Ideal for use alongside the targeted ELASTIderm® eye products, get ready to banish the signs of ageing with this comprehensive collection.