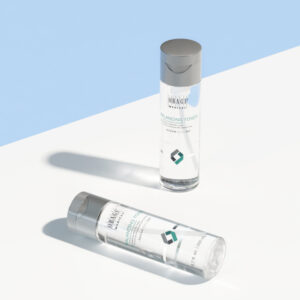 You often see clinical and scientific sounding words on the labels of skincare products. That can make it tough discerning what you should and shouldn't be using for your skin. Should you be using an AHA? What about Hyaluronic Acid? It can sometimes feel like you need a degree in dermatology! But one thing's for sure, there are two products that everyone should incorporate into their daily routine. And the good news is that it's really very simple to understand why they're a necessity.
At first glance, the function of a cleanser might seem obvious but there's much more to it than simply removing make-up and superficial oil and dirt. Then comes toner, the much misunderstood and often omitted second step in the daily skincare routine. So, what exactly are the differences between cleansers and toners? And why should you do both?
What is a Cleanser?
If you aren't a make-up user, you might be forgiven for thinking that you don't need a cleanser. But the truth is that you must!
Cleansers are not just for removing make-up or superficial debris. During the day and evening, the skin accumulates all manner of pollutants, including dirt, dead skin cells, oil, chemicals, and miniscule specs of other environmental pollutants that are in the air.
An effective cleanser won't only clean the surface layer of the skin, it will also penetrate more deeply to unclog pores as well as exfoliating the top skin cells. This ensures that follow-on products like serums and moisturisers can penetrate the skin's deeper layers, meaning better results for the user.
Cleansers can also function as a carrier of other ingredients to nurture and nourish the skin, for example vitamin c to brighten the complexion or aloe to soothe sensitivity.
SUZANOBAGIMD™ products are perfect for anyone looking for a convenient and effective skincare routine. We recommend using the ultra-effective SUZANOBAGIMD™ Foaming Cleanser as your first step morning and night. Formulated by the skincare guru, this is ideal for all skin types including sensitive or oily complexions and as you'd expect, it's been dermatologically tested and is hypoallergenic, non-sensitising and free of parabens, synthetic fragrances, and dyes.
This luxurious microfoam expertly lifts away superficial dirt and debris from the skin's surface, as well as penetrating through to the deeper layers. Clogged up pores don't stand a chance as excess oil, dirt and impurities are quickly dissolved leaving the complexion completely purified.
A dynamic trio of Aloe Polyphenols, Brassica Sulforaphane and Citrus Bioflavonoids have been added to this intelligent formulation, offering a strong defence against the daily stressors that cause premature ageing.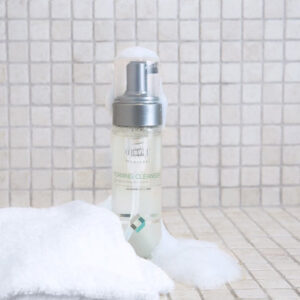 If you're on the go, SUZANOBAGIMD™ has also created another cleansing product that will be perfect for you. SUZANOBAGIMD™ Cleansing Wipes are clever pre moistened wipes that make short shrift of make-up, dirt, sweat, excess oil and deeper impurities when it's not practical to carry out your full cleansing regime, like at the gym or when you're staying over somewhere.
It's down to BioDTox, that powerful trio of soothing Aloe and protective Broccoli and Citrus Extracts again. This A-list ingredient supplies top-notch protection against skincare nasties such as environmental stressors and free radicals known to cause premature ageing. So, in short, it cleans, refreshes, and protects all in one go.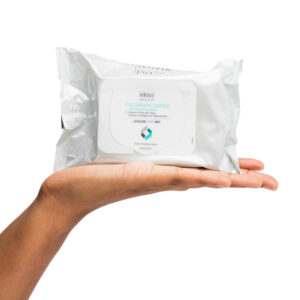 What is a Toner?
Toners are the second step in the daily facial routine so should be used after cleansing and before any other follow-on products. The main purpose of a toner is to mop up any remaining dirt and residue, shrink the pores and restore the skin's pH balance, all of which helps to combat acne, soothe sensitivity, and add back moisture. Toner also helps to support the skin's protective barrier and can refresh and revitalise the complexion too.
We love the wonderfully gentle, hypoallergenic SUZANOBAGIMD™ Toner. Use after cleansing to clear away any excess residue whilst simultaneously restoring the skin's pH balance. The first thing you'll notice is the enticing smell of vitamin powerhouse white grapefruit, famed for its anti-ageing antioxidant properties and bringing a bit of much-needed zing to the skin.
Balancing witch hazel diminishes the appearance of pores, eases inflammation and sensitivity, fights acne and ensures that the complexion is shine-free. Guess what, that ABC of antioxidants, Aloe Polyphenols, Brassica Sulforaphane, and Citrus Bioflavonoids feature again, working to protect the skin from environmental impurities. Acclaimed soother, Aloe prevents the complexion from drying out and to calm any redness or irritation. Skin is left incredibly refined, radiant, and 100% ready to receive follow-on products.