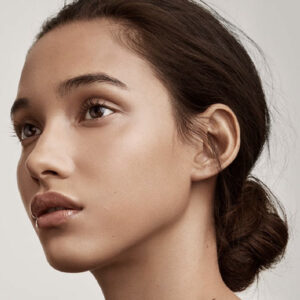 Walking in a winter wonderland might sound pretty dreamy, but for exposed areas of skin like the face, lips, and hands, the reality is that it's a bit of a nightmare. So, why is this the case? Well, colder weather has lower humidity meaning there's less moisture in the air and that dries the complexion out. Add to that, bitter winterly winds, which strip the natural oils in the surface layer of skin and the all-important protective barrier becomes greatly depleted. That spells bad news for the complexion.
Between the inclement weather, too-hot baths, indoor central heating, and the fact that winter bugs bring down our immunity, it shouldn't really come as any great surprise that our skin suffers. Dryness, tightness, dullness, redness, irritation and chapped, flaky skin are all too common winter afflictions. And if you thought that you were out of the woods when it comes to UV rays, think again. In fact, snow can reflect the sun's rays onto the exposed areas of the skin causing sun damage.
How to Keep Skin Hydrated in Winter
Many of us change our wardrobes in winter and we should do the same with our skincare. Adapting our daily skincare routine and using products with ingredients that support the complexion during wintertime allows us to meet our skin goals. After all, who doesn't want to showcase vacation-ready glowing, smooth, youthful skin during the festive season?
Of course, you can cover some of these issues with clever make-up, like foundation, illuminators, blushers, and bronzers, but none of them are fixing the problem at its source. So, it goes without saying that extra hydration and nourishment is paramount. Using an effective, long-lasting moisturiser that rehydrates the skin and prevents further moisture loss will counteract the drying effects of winter. Even better, add a nourishing serum into your daily skincare ritual.
Add a Winter Serum
We love the light, silky Obagi Daily Hydro-drops™, a weightless formula that can be used on its own or under bestselling Obagi moisturisers, Obagi Hydrate® and Obagi Hydrate Luxe®.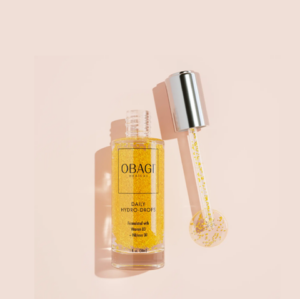 This innovative, hydrating serum harnesses the properties of anti-inflammatory Niacinamide (Vitamin B3) and rich natural, protective antioxidants, Abyssinian Oil and Hibiscus Oil by suspending them using patented microfluidic Isoplentix™ technology. This means that each droplet has been individually made and suspended to preserve it in the purest form until you apply it.
Obagi Daily Hydro-Drops™ also contains Omega-9 and Omega-6 Fatty Acids which are highly supportive of the skin's natural barrier. Phytosterols also work to defend the skin from sun damage and the visible signs of premature ageing like fine lines and wrinkles. All in all, it's an incredibly soothing, nourishing, powerful serum that neutralises damaging free radicals whilst infusing the skin with a mighty dose of nourishing, active compounds. After use, expect skin to feel hydrated, healthy, and more youthful.
Use a Long-Lasting Moisturiser
Obagi Hydrate® and its night-time companion, Obagi Hydrate Luxe® are ground-breaking moisturisers that are clinically proven to deliver continuous hydration for up to 8 hours. It's all down to an advanced ingredient called Hydromanil™ which forms a tight matrix across the surface of the skin. The benefit of this is two-fold since it prevents moisture from evaporating from the skin's surface whilst capturing water molecules at the same time and continuously releasing nourishing compounds into the skin. Make these part of your daily skincare routine and reap the benefits of hydrated, nourished, uber radiant skin.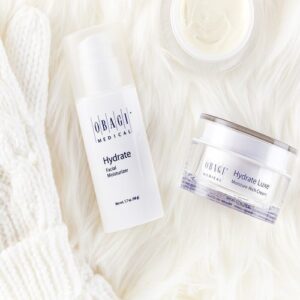 Invest in a Winter Cleanser
Choosing a moisture-rich cleanser rather than your bog-standard type or a harsh soap will also increase hydration levels and retain moisture. For a wonderfully soothing, creamy gel cleanser containing components that effectively remove makeup, dirt, and oil residue as well as attracting and retaining moisture, it must be Obagi Nu-Derm® Fx Gentle Cleanser.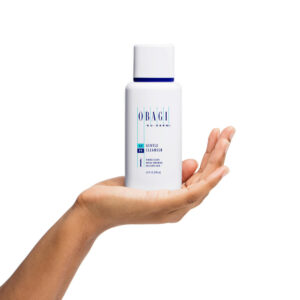 With cleansing Oat Amino Acids and antioxidant Aloe to negate harmful sun damage, this is one cleanser that goes over and above the usual job description. Not forgetting that it contains Panthenol, a well-known moisture retainer that works by attracting moisture and preventing water from evaporating through the outer layers of skin.
And it wouldn't be right if we didn't mention Glycerin, another celebrated humectant, that brings even more moisture to the party. Expect deeply cleansed skin that looks glowing and nourished on the outside.