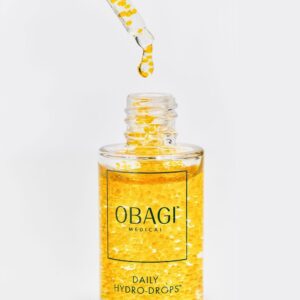 It's the celeb-favourite, golden serum that everyone is talking about…introducing the Obagi Daily Hydro-Drops™ Facial Serum. Not only does it look great but it contains some brilliant science to give you a radiant, youthful glow.
We're here to tell you all about this powerhouse product, and how it'll change your skincare game for the better!
What ingredients are in the Obagi Daily Hydro-Drops™ Facial Serum?
The luxury Hydro-Drops™ serum is infused with vitamin B3, hibiscus oil and abyssinian oil. 3 powerful ingredients which reduce inflammation, hydrate the skin and reduce wrinkles and fine lines.
How does Obagi Daily Hydro-Drops™ work?
Vitamin B3, also known as niacinamide, is a powerhouse antioxidant which minimises enlarged pores, reduces inflammation and lessens fine lines and wrinkles, for a smoother, more even tone. Niacinamide helps to firm the skin by promoting keratin production, which in turn, tightens the skin for a more youthful appearance.
Hibiscus oil and abyssinian oil are rich in antioxidant phytosterols, omega-6 and omega-9. These two fatty acids help to restore and maintain the skin's natural barrier, which in turn, prevents moisture loss and promotes hydration.
Omega-6 and omega-9 shield the skin from free radical damage, including UV rays and environmental stressors. Alongside this, these fatty acids help to diminish the inflammatory process, reducing redness and creating a more even, smoother tone and texture.
What are the benefits of Obagi Daily Hydro-Drops™?
Gentle, all-day hydration
Lightweight, hydrating serum
Emulsifier-free to reduce irritation
Supports your skin's natural barrier function
Hypoallergenic and safe for use around the eyes
Diminishes the appearance of fine lines and wrinkles over time
Isoplentix Technology™ to preserve the purest forms of Hibiscus and Abyssinian Oil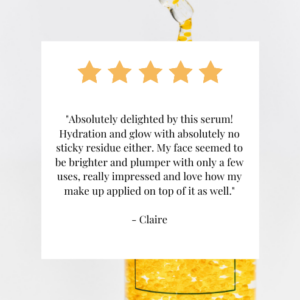 What skin type is the Obagi Daily Hydro-Drops™ suited for?
The Obagi Daily Hydro-Drops™ Facial Serum is suitable for all skin types!
This product is non-comedogenic and hypoallergenic, meaning its non-irritant and won't clog your pores. Due to this, the Obagi Daily Hydro-Drops™ Facial Serum is a great product for those with blemish-prone skin as it'll hydrate the skin, without exacerbating the breakouts. Even those with oily skin should hydrate their skin, especially using a high water content moisturiser, doing this can help to regulate oil production.
Due to its hydrating nature this product is the perfect choice for those with dry skin looking for deep nourishment and hydration.
It's a game changing, anti-ageing, hydrating serum that will help to boost your skin's radiance this Summer, for fresher, younger, brighter looking skin. To introduce this product into your skincare routine click the button below, you won't regret it!