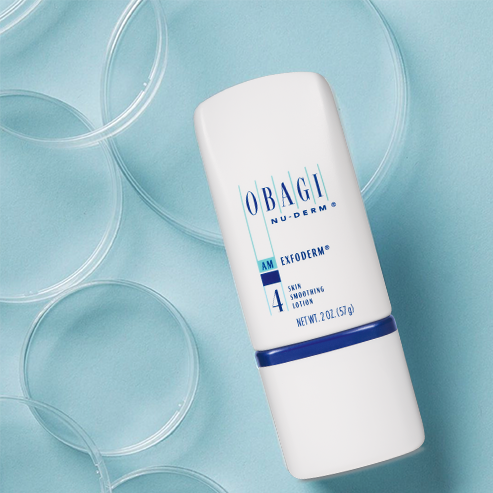 What's the Difference between Exfoderm® and Exfoderm® Forte and Which One Do I Need for My Skin?
The combination of diet, alcohol, environmental factors and the ageing process can take their toll on our skin. As we age, natural skin cell turnover decreases, leaving dull and damaged cells on the surface of the skin. This residue can lead to pores becoming blocked, blemishes forming, a rough and uneven texture, and it makes it harder for other skincare products to penetrate the dermis, lowering their performance. This results in dehydration, dullness and too many blemishes. Sounds familiar? Then it's time to give skin a spring makeover. 
Exfoliation is the perfect way to revitalise, rehydrate and even skin texture. With over 30 years of scientific expertise and clinically proven results, Obagi leads the way with its clinical skincare products. Our products have been specially formulated to transform skin from within, leaving skin visibly healthier and younger looking. 
Obagi Nu-Derm Fx
®
System
Obagi have created two high performance exfoliators that work synergistically and complement other products within the popular Obagi Nu-Derm Fx® System. Obagi Nu-Derm Fx® Exfoderm® is aimed at those with Normal-Dry skin whilst Obagi Nu-Derm Fx® Exfoderm® Forte is best used by those with Normal-Oily skin. For optimal results, these exfoliators should be used as part of the Obagi Nu-Derm Fx® System. If you're unsure which skincare system will work best for you, take our skin quiz now.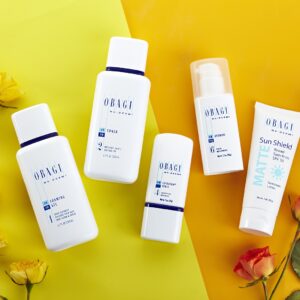 Obagi Nu-Derm Fx
®
Exfoderm
®
Obagi Exfoderm®, formulated for those with Normal-Dry skin, contains wonder ingredient, Phytic Acid, a natural fruit-based acid. It might not be an ingredient that you're familiar with but it's definitely an ingredient on the rise. This key ingredient, known for its skin brightening properties, encourages the essential exfoliation of the top layer of skin. It's delivered within a lightweight lotion that separates dull, worn, and damaged skin cells and speeds up the cell turnover process. Pores are cleared out and skin is refreshed, renewed and positively glowing after use. It's also a great product for those with sensitive skin as it causes minimal irritation.
This is a gentle yet powerful exfoliator producing visible results. As this product contains an Alpha Hydroxy Acid (AHA), it may increase your skin's sensitivity to the sun, however and particularly the possibility of sunburn. Always use sunscreen, wear protective clothing, and limit sun exposure while using this product and for a week afterwards.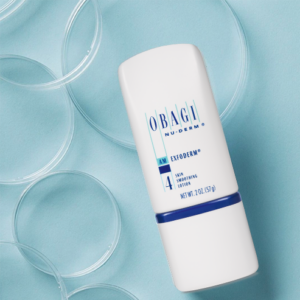 Obagi Nu-Derm Fx
®
Exfoderm
®
Forte
Specially formulated for Normal-Oily skin, Obagi Nu-Derm Fx® Exfoderm® Forte is another clinical-grade exfoliator that contains Alpha Hydroxy Acids, Glycolic Acid and Lactic Acid. 
Glycolic Acid is a water-soluble Alpha Hydroxy Acid (AHA) that's found in sugar cane. This natural ingredient is used in skincare for its powerful exfoliating properties which reveal brighter, radiant skin. Not only that, but it also boosts hydration levels, which helps to diminish signs of ageing like fine lines and wrinkles and it improves overall skin tone and texture too.
This potent formulation naturally exfoliates dull, dead skin cells, increases skin cell turnover and diminishes dark spots, sunspots and other signs of ageing. Expect a noticeably smoother, more even, glowing complexion after use.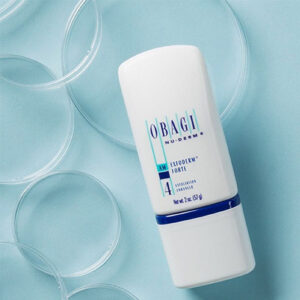 How to Use Your Obagi Nu-Derm Fx
®
Exfoliator
Cleanse skin with either Obagi Nu-Derm Fx® Gentle Cleanser (Normal-Dry skin) or Obagi Nu-Derm Fx® Foaming Gel (Normal-Oily) skin.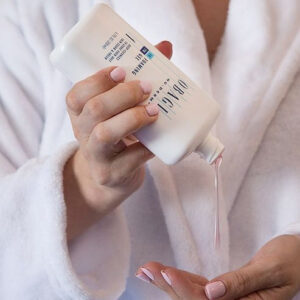 Next, tone skin with Obagi Nu-Derm Fx® Toner.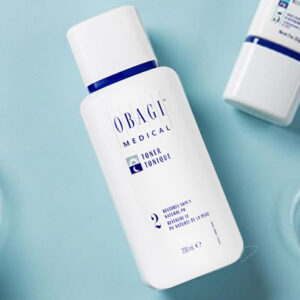 Now apply ½ a gram (or fingertip length) of Obagi Exfoderm® or Obagi Exfoderm® Forte evenly to the entire face. Using your fingertips, lightly massage until it's been completely absorbed. Wash hands thoroughly. After use, fresh, radiant skin is revealed, leaving you with a glowing, brighter complexion. 
Finish off by applying your Obagi hydrator, eye products and sunscreen to deliver much needed moisture and protection after exfoliation. Try Obagi Hydrate® (daytime) or Obagi Hydrate Luxe® (night-time) which contain Hydromanil™. This advanced technology means that molecules form a matrix on the skin's surface, creating a barrier. Skin is immediately nourished, and further water loss is prevented. Not just that, but this matrix holds water in the layers of the skin, gradually delivering nourishment from active compounds over time.